Sport and leisure
The Blansko area

Blansko is rightly known as a town of sport. It offers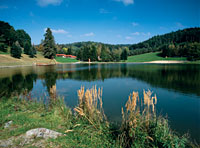 excellent facilities for most kinds of sport, while lovers of rest and relaxation will also find what they are looking for. The Palava Recreation Area is the ideal place for idling away the time, and offers a natural pool, crazy golf, a sandy beach with a volleyball or foot-volleyball court, and a children's playground. Blansko also offers an outdoor swimming pool, indoor baths, an ice stadium, tennis courts and a rehabilitation centre. Those of you who like submitting your body to active physical exercise, on the other hand, are sure to appreciate the services of the squash centre, bowling hall or skittle hall. In the winter the Hořice ski centre operates two modern ski-tows (Husky and Malamute), and there are excellent routes for cross-country skiing around Sloup and Jedovnice.

The Moravian Karst is literally interwoven with a dense network of hiking and cycling paths to satisfy both recreational cyclists and hardened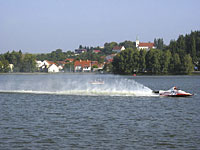 sportsmen alike. The landscape of the Moravian Karst literally calls out for a thorough exploration by bike. Those on foot, on the other hand, will appreciate our signposted educational trails. Come and discover the beauty of the karst with us!

Mystery lovers are sure to take advantage of the range of speleological courses run by the Czech Speleological Society in the attractive Rudice Depression locality.

Water sports get the green light in Jedovnice, where international motorboats races are held every year on Olšovec Reservoir. Those who prefer romance to speed can take advantage of the local boat hire services.

The Vyškov area

The Aquapark in Vyškov has been open since the summer of 2001. The services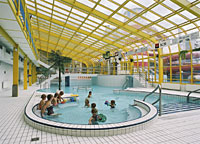 it offers include a 25-metre indoor swimming pool, a children's pool, a pearl bath, a whirlpool and a sauna. The main attraction, however, are two toboggans and an outdoor heated pool with a current into which you can swim through a tunnel. An outdoor swimming centre with a 50-metre pool and children's paddling pool is also open during the season. This summer swimming centre also offers a beach volleyball court, tennis courts, crazy golf, etc.
Contact www.bazenvyskov.cz
tel (reception): 517 348 745

You will find the Zoo Park in the southeast corner of Vyškov chateau gardens. It specialises in breeding original domestic animals from all over the world. The greatest attraction at Vyškov Zoo Park is Babiččin Dvoreček (Granny's Yard), which evokes the atmosphere of a country farmyard and where visitors can stroke the animals. The Zoo Park organises a large number of events for the public during the course of the year
Contact: zoopark@zoo.vyskov.cz , www.zoo-vyskov.cz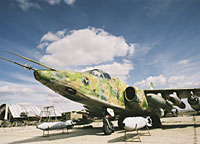 tel.: 517 346 356, 608 771 016

The Foundation of the Historical Aviation Society - take the class III state highway in the Prostějov direction. You will see various types of military equipment, covering several generations, at the old military airport not far beyond the other side of Vyškov. The oldest exhibits are parts of aeroplanes that crashed during the course of World War II. The Foundation of the Historical Aviation Society, which operates the collection, is also engaged in seeking out and identifying aeroplanes that were shot down or crashed in the Czech Republic during World War II.
Contact: www.lhs-vyskov.cz
tel: 604 789 651, 723 177 642, 777 637 833 - group tours can be ordered on these telephone numbers, even for weekdays.
open: April - October, Saturday and Sunday, 9.00 a.m. - 12.00 noon, 2.00 p.m. - 6.00 p.m.

Top cultural and sporting events

May - Blansko, Historical Fair and Beer Fair - an extensive cultural programme for those of all ages in the chateau park, a historical procession through the town, period goods fair, fireworks
June - The Moravian Karst, the music festival "The Magical Tones of Macocha" held inside caves in the Moravian Karst
June - Vyškov Zoo Park - The Vyškov Marquee
July - August - Blansko, Blansko Folk Summer, a series of concerts in the chateau courtyard
Around 15 August - Vyškov Fair - a well-established event with an accompanying programme in Masaryk Square and a ceremonial mass in the Church of the Assumption of the Virgin Mary. Vyškov brewery will be holding an Open Day at the same time, at which leading Czech pop groups will be performing
The end of August - Vyškov Aquapark - Vyškovská Lávka
September - Jedovnice - international motorboat races on Olšovec Reservoir
The second weekend in September - "European Heritage Days" - all the monuments in Blansko and Vyškov will be open free-of-charge. The European Heritage Days are always accompanied by an extensive programme of events and, what's more, are also associated with an international festival of children's choirs in Vyškov.

The range of events held in the two regions is, of course, much more extensive than this. You can find an overview of events and an up-to-date calendar on our webpages at www.srdinko.cz . We are sure you will find something to choose from.
Your entertainment is always taken care of in the Blansko and Vyškov regions!