Technical monuments and items of interest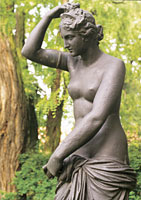 Blansko is closely connected with a tradition of the iron industry and the production of artistic castings. It is, then, no surprise to find the Klamovka, Paulinka and Mariánská Huť ironworks here. The Moravian Karst Iron Trail project is closely associated with this tradition as part of the international programme European Iron Trails.

You can take a look at some artistic castings at one of the permanent exhibitions at Blansko Museum, and can also find statues and utility items made of cast iron in the chateau park and in the centre of town. This extraordinary commodity will, in fact, astonish you at virtually every step... You can then have a look at the cast-iron tombstones of the noble Salmů family in the local graveyard in the village of Sloup in the Moravian Karst.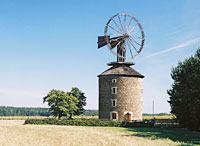 You will also see stone windmills along our route. You will come across the first of these in Ostrov u Macochy, a windmill of the Dutch type, although this one is now in private hands and is not generally open to the public. The most famous of these windmills is found in Rudice. It has been converted to house a permanent exhibition on the history of the village, mineralogy, speleology, the iron industry, smelting and mining. There is a geopark in the grounds of the windmill with examples of the rocks and minerals typical of the Moravian Karst, a replica of a peasant limekiln and a charcoal heap.

One of the most interesting technical monuments on our route is the windmill in Ruprechtov, which is a registered category I protected technical monument with a protective zone around it. It was built in 1873. The mill was evidently fitted with a Halladay turbine in the years 1882 – 1884. This turbine both brought improved efficiency and made operational control easier. The mill was, however, nationalised following the communist takeover of February 1948,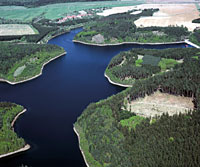 and fell into neglect from then onwards. Not until the nineteen nineties did complete renovation begin. Today the mill in Ruprechtov is a first-class monument of our region and is aspiring for inclusion on the prestigious UNESCO list.

Opatovice Reservoir - construction of the reservoir and fill dam, as much as 36 metres tall at the foot, was completed in 1972. The reservoir covers an area of around 70 hectares and holds about 10,000,000 m3 of water. The depth at the dam is as much as 33 metres. Vyškov and the surrounding area and the nearby town of Bučovice are supplied with drinking water from Opatovice Reservoir, for which reason bathing is strictly prohibited.